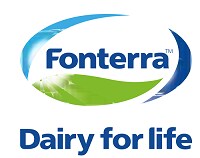 It's an absolute pleasure to have welcomed Fonterra on board as a New Zealand Food Network foundation donor partner.
Their generous support will be invaluable in helping us to address food insecurity in Aotearoa, through their donation of large volumes of dairy products to communities who need it most – including around four million serves of dairy this financial year alone.
Fonterra Managing Director Fonterra Brands Brett Henshaw says partnering with the NZFN will enable Fonterra to reach far more people in need across the country, than it could by itself via food banks, community groups and charities.
"Having a consolidated approach to our donations enables us to be more efficient, and the NZFN are specialists in getting chilled product around the country to where it is needed. The NZFN can help to facilitate the process of getting our donations to individual charities and Foodbanks, by providing the necessary storage and distribution solutions.
"We like to be able to help out where we can, and know we can do more by working with others. We believe that all New Zealanders should be able to have access to dairy nutrition and we're pleased to be able to do this through this partnership and others, such as the KickStart Breakfast programme.
"We know we are at our best when we're partnering with others to do good. We are committed to spreading more dairy nutrition through the communities of New Zealand, helping more people more often."
In addition to surplus food donations, in 2021 Fonterra committed to a 3-year intentional supply of Anchor milk powder (a minimum 100,000 kg Anchor milk powder per year!!), ensuring a consistent source of dairy goodness for those communities that need it most.
Thank you to the team at Fonterra for your generosity. Working together, we will strive to ensure everyone has access to healthy, nutritious food.
Anyone wishing to find out more about coming on board as a New Zealand Food Network food donor, can do so here.
To learn more about the partnership, please visit the Fonterra website.